Table of Contents
**DISCLAIMER**
All Sales in writing
Website Copyrighted
Trade Name: SummermistTM


Standard Poodle Puppies

Standard Poodles Summermist History / Standard Poodles Genetic Testing

Standard Poodles Family Winner to World Winner

Standard Poodles Summermist Statement

Standard Poodle American Flyer

Standard Poodle Bristol

Standard Poodle Cliffhanger

Standard Poodles Cliffy, Jazz, Halo
& Swana

Standard Poodles Genny, Gena &
Genie

Standard Poodle Journey

Standard Poodle Joy

Standard Poodle Karina

Standard Poodle Molly

Standard Poodle Payton

Standard Poodle Remy Martin II

Standard Poodle Sky King

Standard Poodle Swana

Standard Poodle Tarzan on the Cover & Michelle in Agilty

Standard Poodles Summermist Show Dogs

Summermist Standard Poodles in Poodle Variety

Standard Poodles Summermist International

Poodles World Winner & His Dam

Summermist Training Camp

Standard Poodle Articles

Summermist Resources

Bengal Kittens


......................................

SUMMERMISTTM
STANDARD POODLES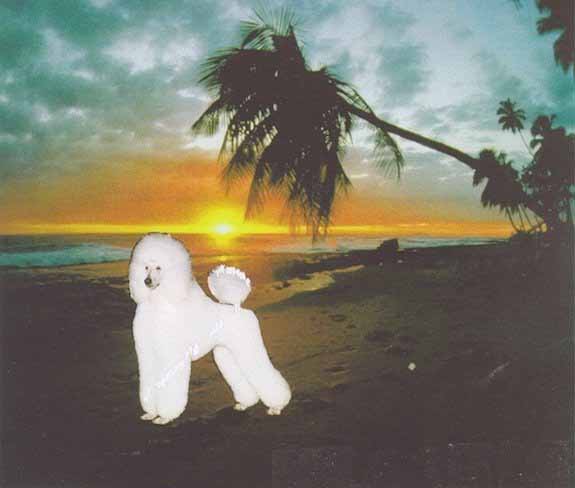 SUMMERMISTTM STANDARD POODLES

WORLD CLASS BREEDERS OF THE WORLD WINNER AND INTERNATIONALLY RECOGNIZED Since 1969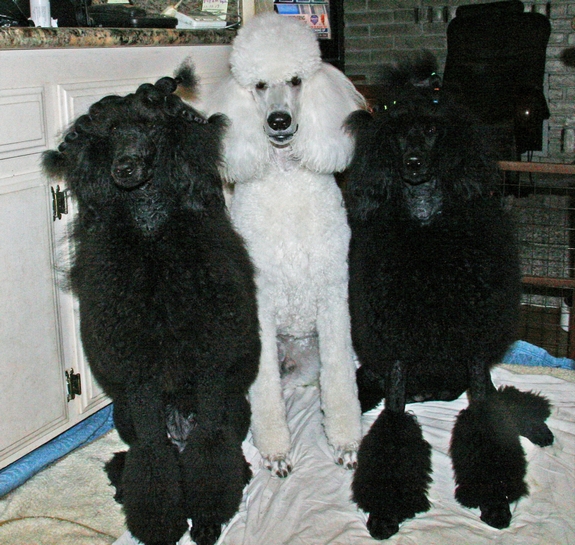 Joy, Dynamo and Amy all pals..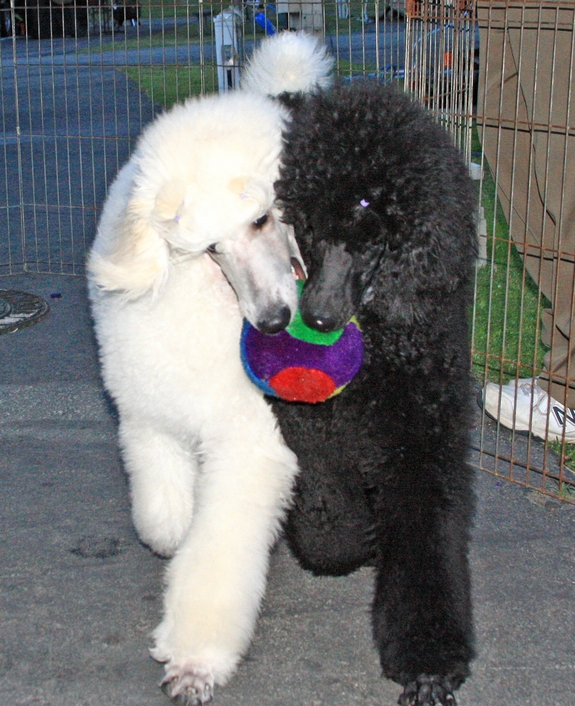 INTERNATIONAL AND NATIONAL PUPPY CHAMPION Summermist "Dynamo" alongside Summermist Proud to be an American "Amy" playing ball. Photo taken March 2017.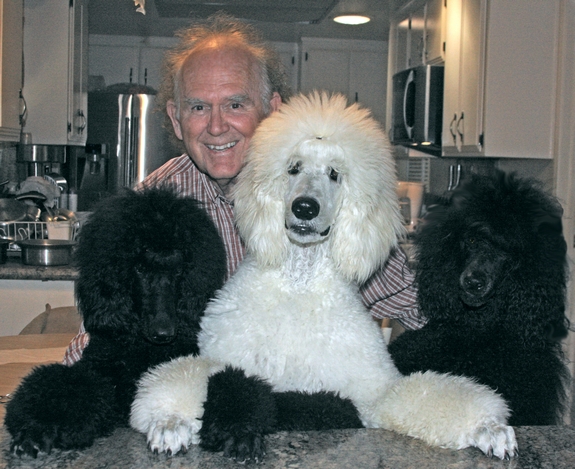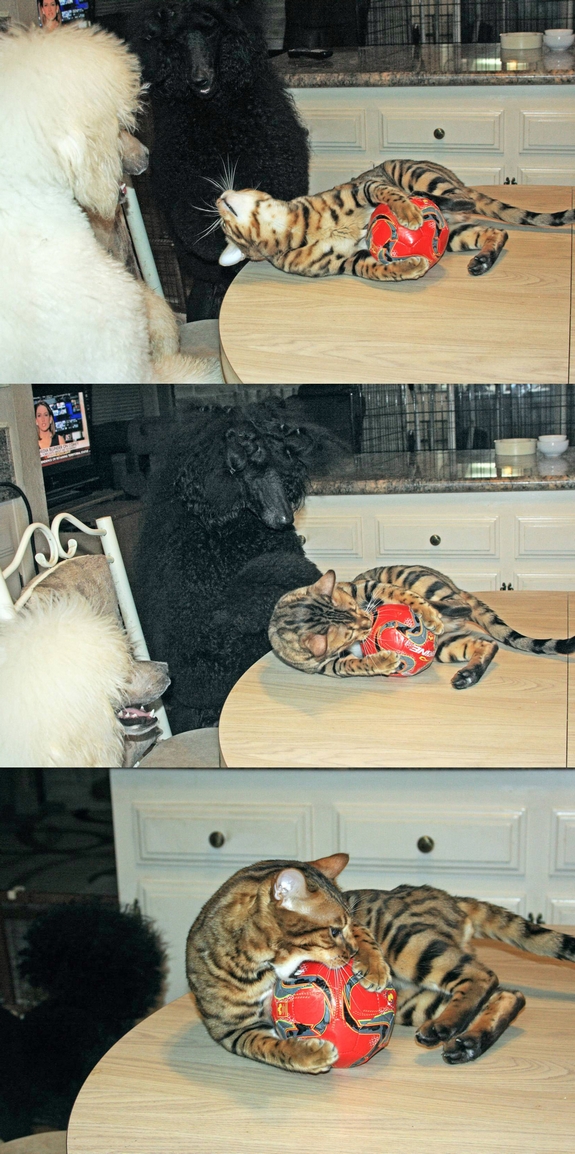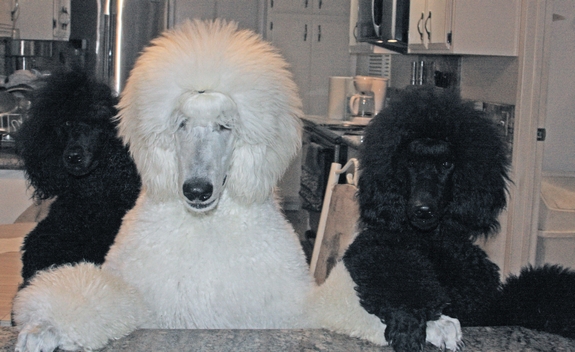 The Three Amigos - Amy, Dynamo and Joy



Puppy Amy discussing with Joy that it is her turn to do the dishes. LOL!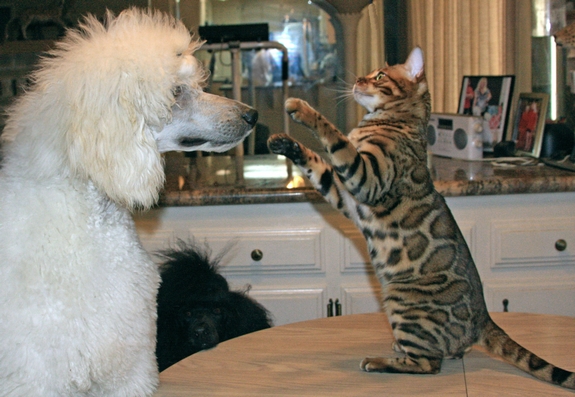 Standard Poodles and Bengal cats do enjoy playing together.
Dynamo and Bling playing.

STANDARD POODLES of SUMMERMISTTM with Sheila sending Season Greetings.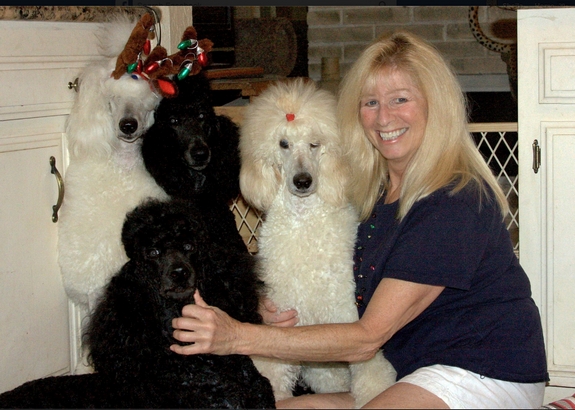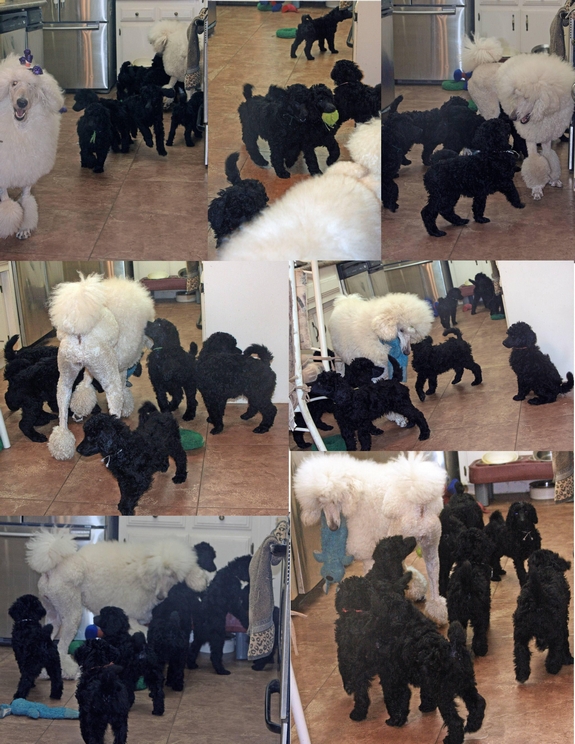 Simon and Bristol's 8 week old puppies having a great time with older sister Journey. Photo taken December 2015.
Sorry All Puppies Sold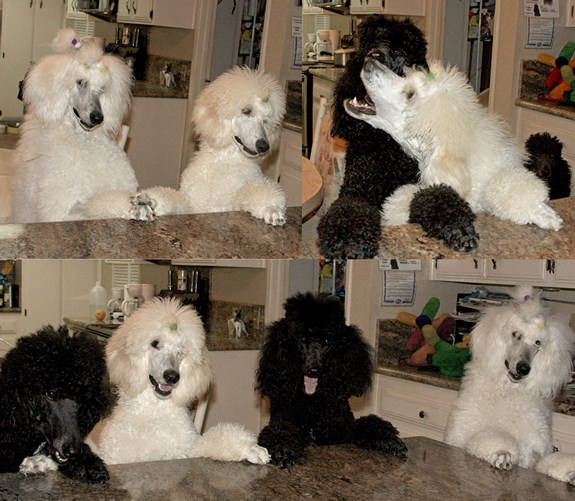 My Four Beautiful Standard Poodles.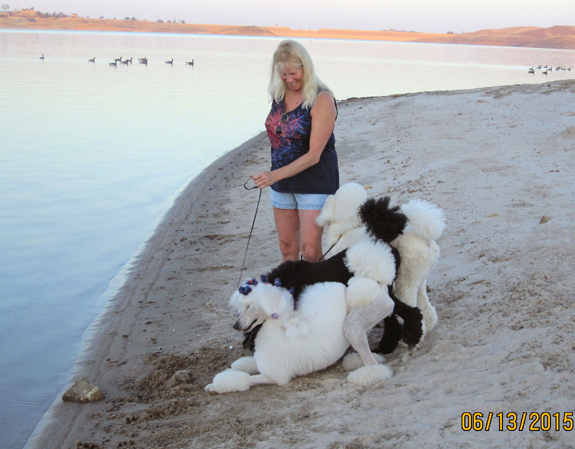 Pictured at Millerton Lake, silly Poodle Ali barking at a rock wanting to play with it.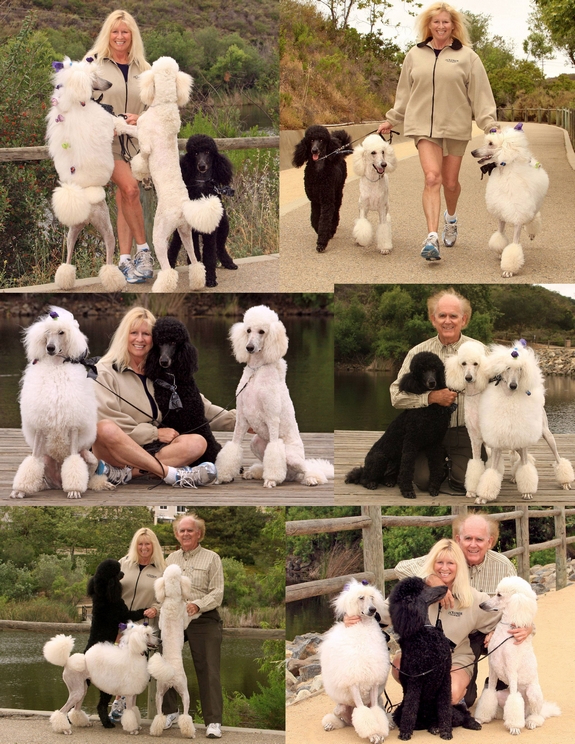 John and I celebrating our 46th Anniversary and 46 years with our Standard Poodles during one of our daily walks.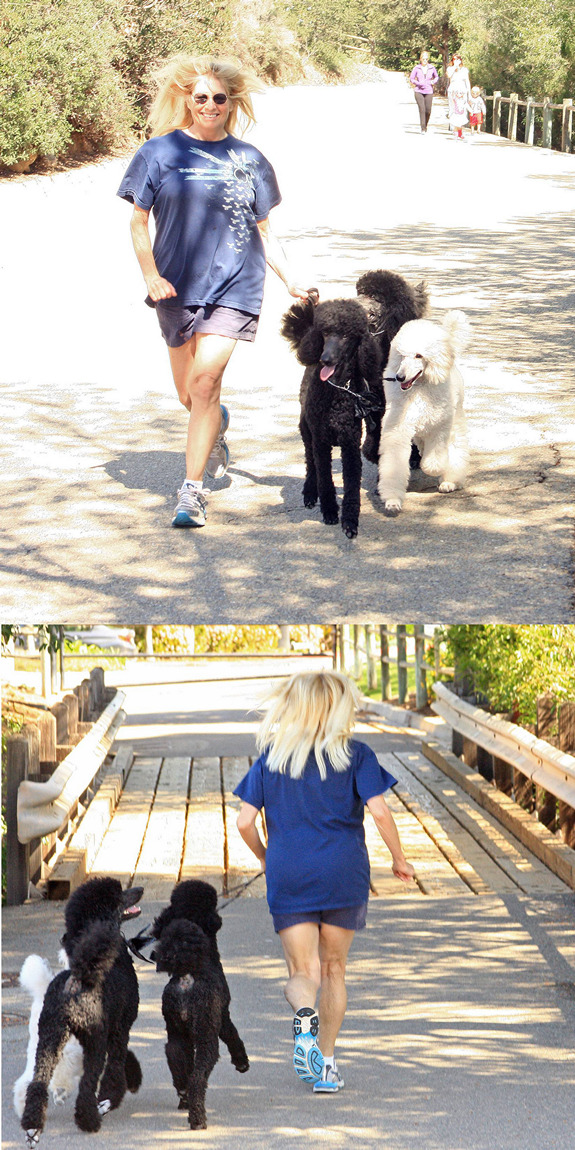 Standard Poodles out for a lite workout.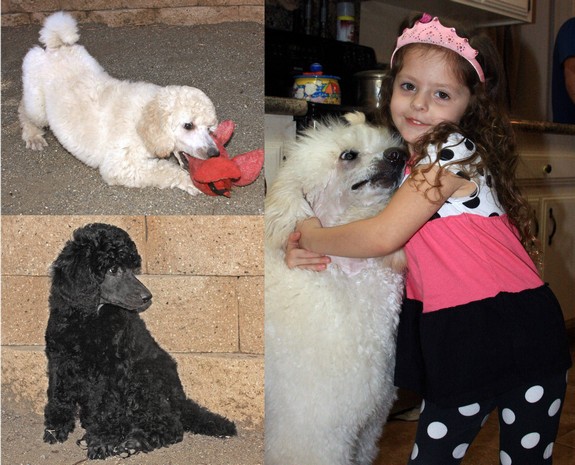 Standard Poodle's are great with children and make wonderful loving family companions.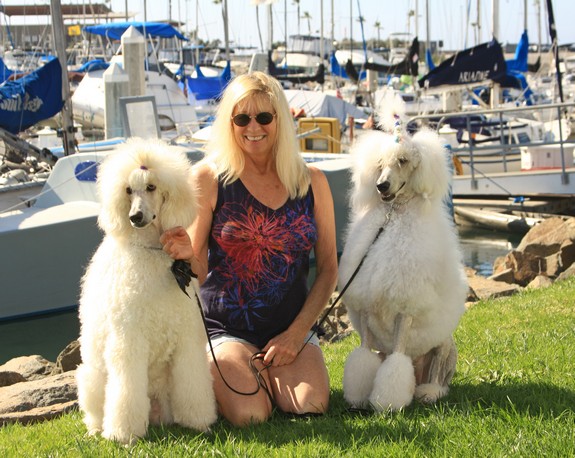 Sheila with her 2 white Standard Poodles, Journey and Ali out for a walk on a lovely day at the Oceanside Harbor.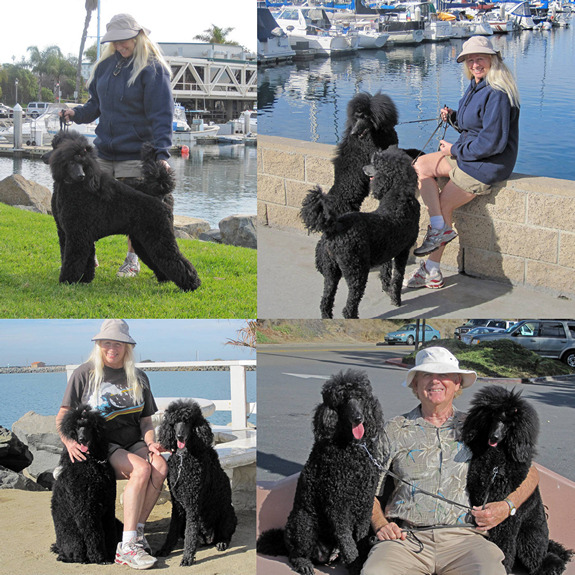 Leisure day with the poodles at the beach in the winter
Sunny San Diego.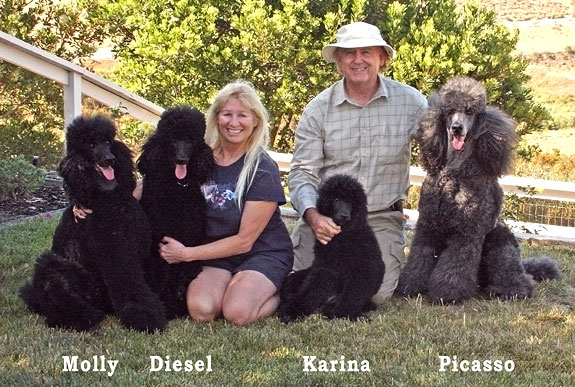 2010 Family Photo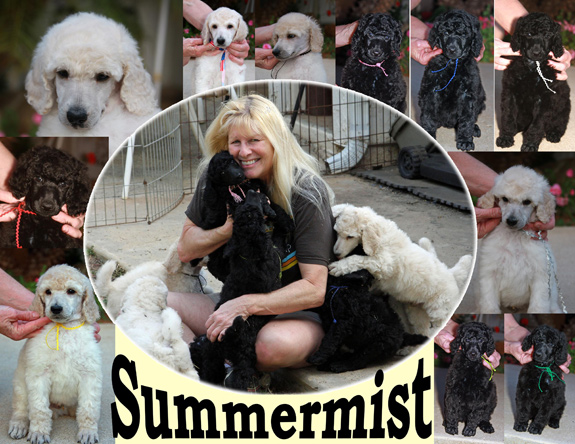 TEL. (760) 744-7886 / FAX (760) 591-9662
Email: bengals4u@sbcglobal.net
www.standardpoodle.net
Standard Poodle Puppies for Sale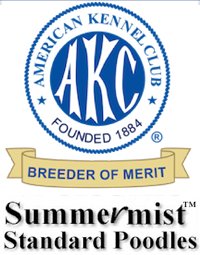 American Kennel Club Breeder Of Merit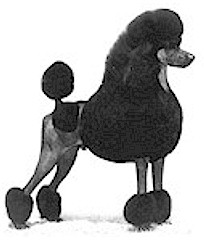 **DISCLAIMER**
Any and all sales are by written sales agreements only
SummermistTM Standard Poodles, Sheila and John Fowler (hereinafter referred to as SummermistTM) have the right to refuse to sell any Standard Poodle or Standard Poodle puppy at any time and during the negotiation. Until a written Sales Agreement has been signed by all interested parties, any Standard Poodle or Standard Poodle puppy is the sole property of SummermistTM in compliance with certification of SummermistTM by The American Kennel Club (AKC) Voluntary Code of Ethics.  DEPOSITS ARE NON-REFUNDABLE. 
Deposits reserve a place on our waiting list and are applied to the sale price at the time the written Sales Agreement is signed by the Buyer/Adoptee.  If the reserved Standard Poodle puppy becomes unavailable for sale due to no fault of SummermistTM, your deposit will be applied toward another Standard Poodle puppy which may be in the same or a different SummermistTM bred litter.  In the event the Standard Poodle or Standard Poodle puppy under consideration by a Buyer is chosen by SummermistTM as pick-of-litter or otherwise withdrawn from sale, SummermistTM will refund the Buyer's deposit at the sole discretion of SummermistTM.
THIS ENTIRE WEBSITE IS THE SOLE PROPERTY OF SUMMERMISTTM
The pictures, photographs, Testimonials, descriptions, show wins and wording on this web site are the property of SummermistTM, SummermistTM Standard Poodles and Sheila and John Fowler. This property (pictorial and/or wording) is not to be utilized in any other web site or other form of advertising or other business use without the explicit, written consent of Sheila and John Fowler. The creation of the pictures and ideas on this web site are the result of the experience and artistry of SummermistTM along with the expense of creating and maintaining our web site. We have considerable investment in our web materials and they are the symbol of our creativity and talent. Their unauthorized appearance on other web sites is a violation of copyright law and exhibits the plagiarism that some individuals apparently are willing to exhibit by using the attractiveness of our material to benefit their own ends. We will pursue each case with all legal means available to us to stop the illegal use of our property. Unauthorized usage of our materials will seek fines and advertising fees related to the period of unauthorized use.
Our materials may be available in certain cases by written request only. Any grant of use of our property can only be done by Sheila Fowler or John Fowler and credit must be given to SummermistTM Standard Poodles and John & Sheila Fowler. One must attain written permission signed on a form available only from John or Sheila Fowler.
This site was last edited on:
Sacramento SEO